Five Common Myths About Power Washing
At DC Dynamic Cleaning in Coachella Valley, there's nothing we love more than helping people have a clean home or business exterior. When it comes to power washing, you may think that it only applies in certain situations, such as when a home is visibly dirty or the driveway outside your business is obviously stained. While these are good scenarios for calling a professional pressure washing company, they're not the only situations that call for a cleaning. In this post, we'll look at five common myths that you may have heard surrounding power washers.
Myth #1. Only for Visible Dirt and Stains
If your home has visible dirt and stains on it, then it's a good idea to contact us right away. However, it's also important to remember that just because you can't see the dirt, it doesn't mean it isn't there. When you hire a professional, you can count on them to remove all dirt, stains, mold, and anything else that's clinging to the exterior of your building. What may surprise you is that when the highly pressurized water stream is directed at a seemingly clean section of the exterior, dirt and debris come running off.
Myth #2. Connect a Hose and Get to Work
While there are some residential pressure washing kits that can be connected to your garden hose, those may not do as good of a job as a professional setup. Teams such as ours use special mixtures of cleaners and detergents to blast away stubborn dirt and stains. Water alone will only do so much!
Myth #3. The DIY Method
You may have tried the do-it-yourself (DIY) approach with pressure cleaning before, and you may have had some good results. However, you may notice later in the day that there were some spots you missed, or that one part of the house looks cleaner than the other. This is where hiring a professional comes in handy. We use state-of-the-art equipment to clean every inch of your home or business, and we make sure we're environmentally conscious on every job.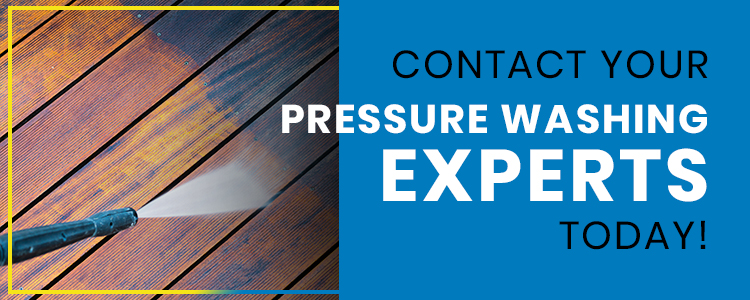 Myth #4. You Can Wash Everything!
While most surfaces are safe to pressure wash, not everything on your building should be targeted with a high-powered stream of water. For example, your windows and doors should be gently cleaned, and any decorative elements such as trim or millwork might need to be excluded, or washed on a lower setting. Our team knows how to clean and treat any surface, and you can feel confident that we'll take care of everything.
Myth #5. Go With The Most Affordable Option
When it comes to hiring power washing experts, your first thought may be to hire the most affordable team. While you could get decent service from the company with the lowest bid, you may end up getting what you pay for — less-than-ideal results. When looking at companies near your home or business, cost is important, but it's also good to take into consideration the reviews the company has, as well as any other jobs they've done in your area. At DC Dynamic, we always do our very best to provide exceptional service and amazing results.
Contact Us Now
If you're interested in learning more about our pressure washing services, or you simply want to ask some questions, then contact us right away. We hope that this post has helped you understand how beneficial power washing can be, and that the myths surrounding the industry shouldn't always be believed.
No matter what type of property you have — residential or commercial — we'd love the chance to clean it for you. We look forward to hearing from you soon!